Laura Muir wins gold for GB & NI on fabulous Friday
Laura Muir took 1500m gold and Zharnel Hughes led a British 1-2 in the men's 200m as Great Britain & Northern Ireland added five medals to their tally on a brilliant night in Munich. Jake Wightman and Ben Pattison also qualified for the 800m final.
World bronze medallist and Commonwealth champion Muir (handicap -3.4) sat at the back through the first 600m before moving to the head of the field, taking them through the bell in the lead.
The Scot kicked as the field entered the final lap, opening up a large lead on the rest and gritted her teeth down the home straight, pulling away from Ciara Mageean (handicap -2.5) to retain her title in 4:01.08.
Muir said: "It looked hard on paper but actually doing it in person, never again. It was an amazing opportunity and a very unique one that we'd ever get three Championships in a year, let alone in five weeks in the summer, it's just insane.
"I thought 'you know what, I'll give it a go' and my aim was to medal in all three which I've done and to win the Commonwealths and to win here I'm so happy. This was the hardest one.
"On paper it was the easiest, one event only two rounds, so physically it was the easiest but it was so tough mentally. It was the most difficult race I think I've ever run and credit to all the other athletes that have done the three because it's so difficult."
Teammate Katie Snowden (handicap -2.2) ran an excellent race behind the medallists, coming home in fourth spot in 4:04.97 with Ellie Baker (handicap -2.0) finishing well for eighth place in 4:05.83.
In the 3000m steeplechase final, Phil Norman (handicap -5.0) claimed ninth spot, owed in large part to a resurgent final lap of the race.
Norman was well placed early on, running a sensible first half of the race, keeping pace with the leaders, but the damage was done with just over two laps to go as Italy's Osama Zoghlami quickened the tempo. Hitting the bell in 13th position, the Briton produced a strong last lap charge, picking off four athletes in the process to secure ninth place in 8:33.05.
The Woodford Green athlete assessed: "That was a bit of a mixed bag really, I was disappointed with the result. I think I needed to be a bit braver and get right up at the front. I was in the bunch and was stuttering quote a lot as a result and not hurdling efficiently.
"By the time I thought about getting out of there it was a bit too late and the pace had picked up already. I'd had to make a big effort to get up there. I was happy with how I ran there, but I was just expecting a bit more tonight."
Away from finals action, world 1500m champion Jake Wightman (handicap -7.3) and Commonwealth Games bronze medallist Ben Pattison (handicap -6.8) made safe progress into the men's 800m final, but compatriot Daniel Rowden (handicap -6.7) missed out.
Pattison and Wightman kept themselves close to the leaders through the opening 400m, with the field reluctant to make a breakaway as the lap wore on. Coming off the final bend, Wightman powered into second position to ensure automatic qualification for the final in 1:46.61, with Pattison bagging a non-automatic qualifying spot, finishing fourth in 1:46.95.
Wightman reflected: "I didn't run good there. I think the one thing I am taking from it is I must be pretty fit because tactically I was all over the place, but I was still able to get through. I hope I don't get lane one in the final as I didn't run too well from there!
"I wasn't good. Tactically I wanted to run it as close to perfect as possible and I thought I would be alright but I was very, very far from perfect. I've made a lot of mistakes in competitions but the fact I still got through is quite a confidence boost for me."
In the first semi-final, Rowden was forced to front run the race early on and was at the head of the pack through the first 400m. As the pace quickened in the final 150m, Rowden was run out of things, finishing fifth in 1:48.80.
Full British Athletics report via this link.
Endurance results on this link
Saturday timetable in Munich for European Athletics Championships (local time is +1 hr), hence first listed event is at 0730 GMT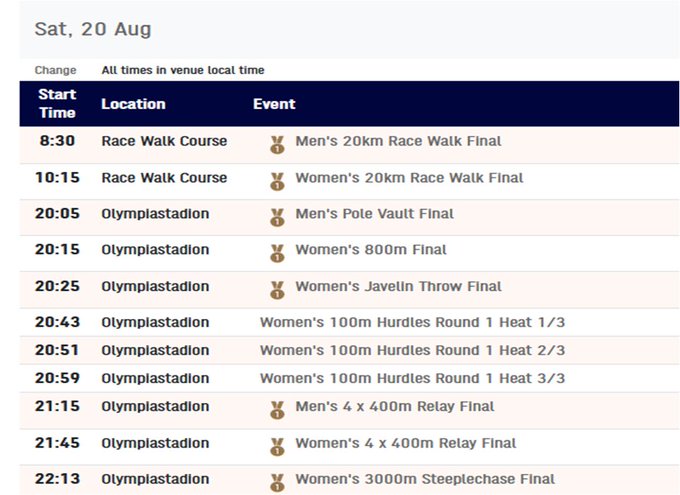 Great Britain and Northern Ireland medal tally (14):
Gold: Matthew Hudson-Smith – 400m
Gold:Zharnel Hughes – 200m
Gold: Laura Muir – 1500m
Silver:Dina Asher-Smith – 200m
Silver: Eilish McColgan– 10,000m
Silver: Jake Heyward – 1500m
Silver: Zharnel Hughes – 100m
Silver:Nethaneel Mitchell-Blake – 200m
Bronze: Eilish McColgan – 5000m
Bronze: Jeremiah Azu – 100m
Bronze: Daryll Neita – 100m
Bronze: Alex Haydock-Wilson – 400m
Bronze:Lawrence Okoye – Discus
Bronze: Jazmin Sawyers – Long Jump